You are currently browsing the category archive for the 'Uncategorized' category.
Maybe it was something like this: There are some kinds of ignorance and some kinds of delusion which yield a more productive and happy life than would otherwise be.
Over in the "Dads And Anger" series of post at my Dad blog, I put up my thoughts about the meaning of the two "Be angry and do not sin" bible verses.
I explained that I don't think it's a call to Anger, but it's a warning that the emotion of Anger often is a lead in to sin. It's not necessarily sinful to be angry, but what it often tempts you to do is sinful.
So I was thinking that this phrasing could be used for other tricky emotional states, as well.
For example – the Bible could have included passages like these:
– Note that you would like to have a big house like the Smiths, and do not sin.
– Become aware of the pretty lady's prettiness, and do not sin.
– Wish you could tell something other than the truth in this uncomfortable situation, and do not sin.
– Accept that you are interested in taking that CD without paying for it and do not sin.
– Feel the attraction of getting people to be impressed with you and do not sin.
– See the benefits that more money would afford you and do not sin.
– Think "Wow, I'd sure like to tell this person this unwholesome bit of knowledge about this other person" and do not sin.
Perhaps you can think of others. And please note the connection of the elements in this list – in all of the cases the initial emotion is not a sinful one, but it does come laden with pitfalls.
How good it would be for all of us to be immediately aware that we're in a situation where sin is likely and immediately say – "I'm not going to give in – I'm going to handle this the way God wants me to."
(Apologies for duplicate posts if you subscribe to more than one of my blogs)
I currently manage four blogs:
The Responsible Puppet – First Blog
The Responsible Father – Dad Blog
Revisiting MN State Parks – Reviews of State Parks
Fighter Verse Songs – The Ministry* I produce songs for and my Creative Outlet
But if you'd like to be alerted any time I post to any of these, you can now just subscribe to my newly created Twitter account.
I've got 8 tweets and 6 followers so far!
* Depending, of course, on your definition of 'Ministry'
Or should I say, welcome back?
I'm glad you're here.
If you're a dad, you might be interested in my "Dads and Anger" series of Posts over at my dad blog. My hope is that these posts will help Christian dads avoid sinfully acting in anger against their kids.
And my main statement is that all anger acted out against your kids is sinful.
And don't forget the new Fighter Verse Songs CD!
Here's a sample video. It's bluegrass!
There's no logical way to go from
Person X is spending none of his time on Issue Y
to
Person X does not care about Issue Y
I will be happy if someday someone remakes the LOTR and Narnia movies and this time follows the actual detailed plot from the book. It will be as if the movie producers are saying to Lewis and Tolkien, "Yes, we feel like you knew how to write a good story. We trust you."
Not pleased with how old you're getting? Consider this: Every year you're farther away from the age you'll be when you're twice your age.
Hello Challies People
I'm glad you're here. Yes, I'm the guy who posted about the Messages in the Meals last week. But that was on my Dad blog.
While you're here, please go look at the information about the newest Bible Verse Song CD
Here's a sample video. It's bluegrass!

The Song "My Favorite Things" has been recorded on 35 different Christmas albums.
Also, the first 24 notes of the melody are Do, Re or So.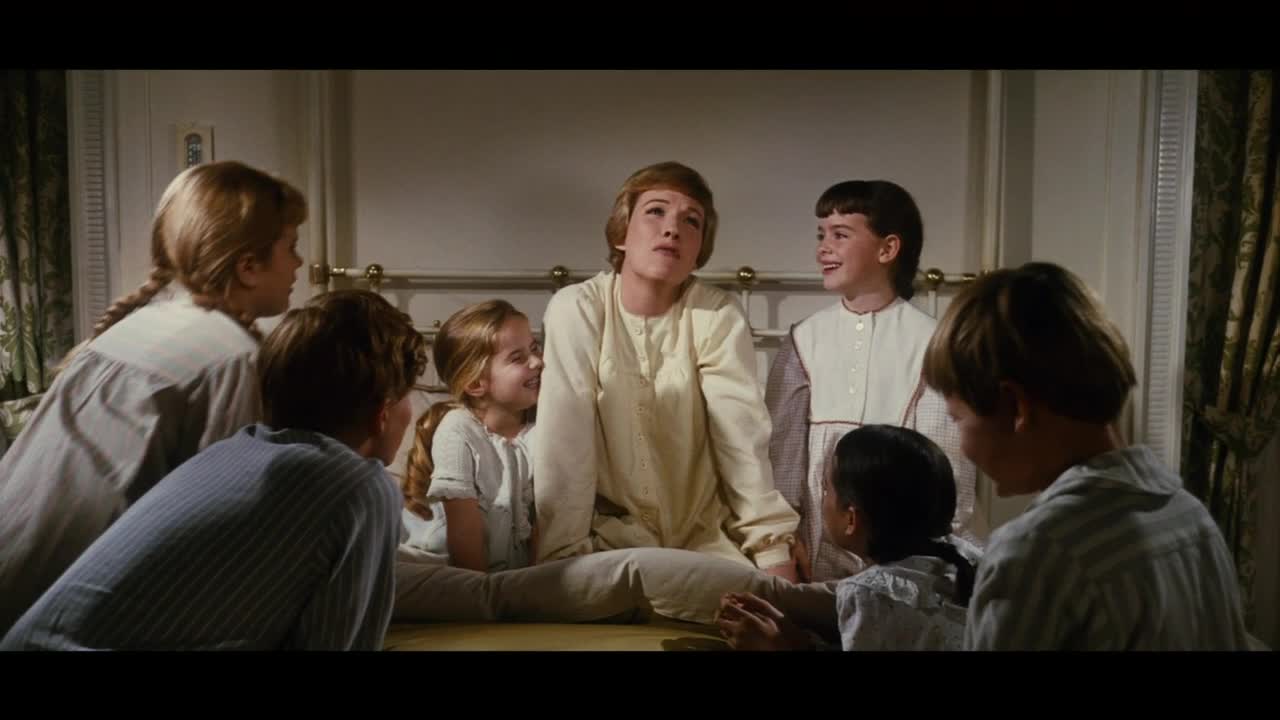 "The happy, optimistic lyrics—"Cream-colored ponies and crisp apple strudel"—are just a counterpoint and cover up an undercurrent of fear… the terror contained in the melody is still the dominant emotion"
Okay, going a little dark there, Wikipedia writer?
In 1988, November 28 landed on a Monday; the Monday after Thanksgiving. I was a junior at Bethel College, I sang in the College Choir, and the Monday after Thanksgiving was always the first day of a week of rehearsals in preparation for the Festival of Christmas, Bethel's yearly Christmas music concert featuring all of the musical organizations.
During those years–the years before the Great Hall came into being on campus, the Festival of Christmas was held at a large nearby church. All of the performers had to find their own way there.
I had a car.  A big car. A 1978 Delta 88 Oldsmobile. I once measured it, and found that it was longer than my parents' Suburban. But what it lacked in mileage it gained in its passenger-holding ability.
So on Monday, November 28th, 1988 I found myself driving four other choristers to the rehearsal. Tenor Section Leader Bryan was in the passenger seat, and there were three in the spacious back seat. This happened to be a year in which there had been significant snowfall the previous weekend, and the roads were somewhat slippery.
About a quarter mile from the church, driving through a suburban neighborhood, we came over a hill and, looking down, we saw kids on the side of the road, up on the snow bank. With sleds.
My friend and fellow-tenor Ace, suggested (jokingly – I assure you*) that I not concern myself with not hitting one or more of them.
I headed down the hill, going fairly slowly, and immediately noticed that it was almost sheer ice. And then we saw one of children head down the hill, towards the road, in an un-steerable and un-stoppable round red sled. You know, the crazy kind.
And then we saw him slide right into the road. And then we saw him stop in the middle of the road. Right where I was headed. On sheer ice. I put on the brakes, which did absolutely nothing as my big car slowly continued towards him.
This was a bad moment.
As slow as I was going, there was nothing I could do. I actually steered slightly (very slightly) towards him so it wouldn't be a tire that went over him.
And then I ran him over. We saw him disappear below the bumper.
I slid another fifty feet (this was Bryan's estimate later), and eventually the curb on the right side of the road stopped the vehicle.
This was a worse moment.
Two of the passengers in the back were ladies, a soprano and an alto. The soprano later told me that as I got out, they started praying. One of my passengers also later told me that they'd heard the child cry out at some point. I didn't hear this.
I ran to the back of the car and looked. That's where he'd be, right? Nope, I didn't see him.
So I ran to the front. I bent over and looked. And there he was, just under the center of the front bumper. On his side, looking at me. Looking a little squished. Scared.
I asked (with, I imagine, a little tension in my voice), "Are you okay?"
He (with corresponding tension) answered, "Could you just back up a little?"
Now, I wouldn't recommend what I did next, but I just took his hand, pulled him out and stood him up. We kind of checked him out. He was completely fine. The height of the underside of the car and the slipperiness of the icy road was exactly what it needed to be to keep him (mostly) in front of the car in a non-crushing manner until the vehicle stopped. I thank God. I really, really thank God.
In any case, it was at this point that Tenor Section Leader Bryan gave him a fifteen second lecture about why it wouldn't be wise to continue sliding into the street at this location. The boy took his advice with great seriousness.
And we left the boy and his friends, we all got back into the car and drove the thirty second drive to the church.
I watched as other people told the story, and I personally told the story more than once in the coming days. Over the years, as I've told it, I've usually begun the story with, "And don't worry, this story has a happy ending". Which I now think was a bit of an exaggeration.
Five other notes:
- In my journal entry for that day, I reported that at supper, my friend Mark was under the table laughing as I told the story.
- In my journal entry for the next day, I reported that more than once, people asked me, "Did you run over any kids today?"
- My primary regret in this event is that I didn't walk the boy home to make sure his parents learned what had happened.
- The Soprano who prayed in the back of the car has now been my wife for nineteen years. We weren't even dating back then.
- This year, God-willing, I'll go to the Festival of Christmas for the 29th year in a row.
- I didn't report this in my journal, but my memory has it that at a later rehearal, Tenor Section Leader Bryan, giving announcements to the entire 100 person Festival Choir, said, "And in the years to come, if you have kids, don't let them sled into the road, or sure as shootin', Scott Jamison will run them over!"
===
* It's my guess that Ace was in effect saying, "Scott, watch out for those kids there."
I'd just like to point out that yesterday (probably in the afternoon) this blogs all time views count passed 150,000.
So, do you think Scott Adams (the drawer) is evil because he created such an evil character? Or because he chose every evil thing that character ever does?
See also.
Resolved: Nothing said between a husband and wife should be considered gossip.
True? False? Mostly True? Explain.
A few weeks back, Pastor Sam at our church posted the seven reason why one writer (Laurel Buckingham) loves attending a big church.
While I agree with all of them (as you might guess, since we attend a big church), my first thought was that small churches should get this same kind of list. So I wrote to him with the first ten reasons I could think of.
Last week, he posted them.
You can go read them, but here are a few of the reasons:
4. Small churches have more opportunity for musicians who aren't at professional or near-professional levels.
This is true for other kinds of giftings.
5. People in small churches have more access to the head pastor.
6. It usually takes less than two years for pastoral transition.
… Or other decisions of this kind.
7. There is less potential for a person to be stagnant in a small church. There is more automatic accountability.
Let me just say as a disclaimer that we love attending Bethlehem and have no plans to leave.
Here are four times when "What part of X did you not understand?" doesn't work as an argument:
When your listener wasn't around when you said X.
When you haven't actually ever said X.
When X is, in fact, quite confusing.
When X is, in fact, not true.
Did I miss any?
Like most people, I'm not one to be that interested in famous people. I don't go out of my way to see them.
I've never, for example, been to a book signing.
Weird Al is promoting his new children's book (My New Teacher And Me!) and he's on a multi city signing tour. I saw that one of the stops was the Barnes & Noble Bookstore by us.
Now, the fact that I enjoy Weird Al's music is a part of the public record. I'll go even further. I think it takes genius to do what he does.
His ability to mimic pop musicians is impressive, his original melodies are always very singable (and often make you want to sing along), he continues to be funny and his voice . . . well, even if you don't like the tone, you have to admit he has a fairly big range and acrobatic ability.
So we went. I admit I wanted to see him in person and briefly talk with him.
I took my family. As we drove, I wondered how many people would be there. And as we walked in, I was handed a slip of paper which indicated that I was 251st in line.  And all of the books were sold out. Ah.
So we waited until he walked in and he was introduced. And then he began the arduous task of signing all of these books. Cheerfully.
We went home. I took a nap. And then my wife and I left the kids at home and went back, two hours and twenty minutes later. He'd signed about 150. So we had some nice cool drinks in the Starbucks there  (we usually go on a Sunday date anyway) and did a little shopping.
I spent some time in the comic section, which happened to be partially within earshot of Al as he signed books. He was generous and pleasant and patient as person after person, after couple, after family came through the line, told him how much they loved him, and got their picture with him.
At around the 3 1/2 hour mark, they finally called the set of numbers that I was in. And then it was my turn. The bookstore had nicely given us stickers to have him sign (if we promised to order the book, which I will!) I asked him to put down the initials of our kids. Which he did.
I commented about how I appreciated that his music was family friendly* and he thanked me. I asked him to look bored when they took the picture of us. Which he did. And he laughed afterwards.
And then it was done. As we walked away, he still had many people waiting in line. And he was still smiling.
A few more comments:
- He told me this was one of six days in a row that he was doing this. Can you imagine doing that for five hours, for six days ? It would be a different (not entirely unpleasant, not exactly thrilling) kind of existence.
- I'd just like to point out the fact that the handed out piece of paper's note that seating was NOT guaranteed proved to be true, largely due to the fact that there was no seating, except for Mr. Yankovic.
- The people in line were an eclectic mix of lots of different kind of people. Like him, they were quite patient and pleasant.
In any case, I'm glad I went.
*Depending, I guess, on your definition of 'family friendly'.
I have learned that my tastes in food render reality so that there is no connection or correspondence between "I don't like this meal" and "This is not a quality meal".
I thought some of you might like to know that over at the Gospel Coalition they published an article I wrote.
It's six reasons I'm glad Pastor John was our family's pastor. Go take a look!